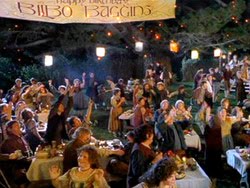 Bilbos avskedsfest
var en storslagen fest som hölls av
Bilbo Bagger
på hans 111:e födelsedag på
Festplatsen
den
22 september
TT 3001
. Det var av en tillfällighet också hans brorson,
Frodo Baggers
33: e födelsedag.
Det var en stor och mycket dyr fest, där de flesta Hoberna i omårdet deltog med dess 144 inbjudna. I festen ingick kopiösa mängder mat och dryck, och Gandalf den Grå underhöll publiken med fyrverkerier.
Tillställningen är anmärkningsvärd i Hobsala för Bilbos abrupta försvinnande (han använde Ringen för att försvinna mot slutet av sitt födelsedagstal), men den allra viktigaste historiska händelsen var att Bilbo lämnade Ringen till Frodo innan han begav sig.
Deltagare
Edit
I alfabetisk ordning
Ad blocker interference detected!
Wikia is a free-to-use site that makes money from advertising. We have a modified experience for viewers using ad blockers

Wikia is not accessible if you've made further modifications. Remove the custom ad blocker rule(s) and the page will load as expected.