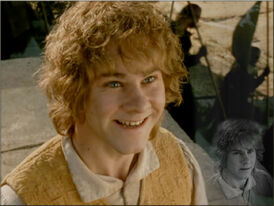 Familjen Vinbock
började en gång i tiden som
Familjen Fornbock
, som namngav sig efter
Bucca av Markslandet
, den första
Thanen
av
Fylke
. Tio Thanar följde från Fornbockarna, innan
Gorhendad Fornbock,
den tolfte Thanen, korsade
Vinfloden
och flyttade in i
Bockrike
.
Gordenhald döpte om sig till Vinbock, och började gräva de stora smialerna i Vintuna. Runt kullen bygddes byn Bockeby.
Stoorernas egenskaper och utseende förblev bland Vinbockarna, som bildade en kraftfull dynasti, som blev mest självständiga i hela Fylke, även om Bockrike var en del av det. De sågs som "speciellt folk" av de andra Hoberna i Fylke, eftersom de låste sina dörrar på natten (vilket de gjorde på grund av expanderingen av Gamla Skogen).
Ledare över familjen gavs titlen Herre över Bockrike, en av tjänstemännen i Fylke. Det var tradionellt för varje Herre att ha en epigraf anlsuten till deras namn, så som Gorbadock "Bredbälte", Saradoc "Guldpsridare", och den mest kända, Meriadoc Vinbock den Magnifika. Liksom Thanen och Herren över Västmark, hade Herren över Bockrike bara en symbolisk befogenhet.
Familjeträd
Edit
Klick på bild för större version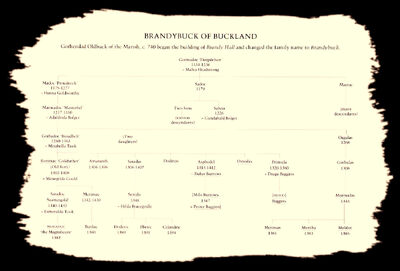 Etymologi
Edit
Namnet innehåller delar av Brandywine och Oldbuck. Det är översättning från Väströna, Brandagamba.
Inspiration
Edit
Brandybuck är ett ovnaligt engelskt namn som Tolkien kom över.
Ad blocker interference detected!
Wikia is a free-to-use site that makes money from advertising. We have a modified experience for viewers using ad blockers

Wikia is not accessible if you've made further modifications. Remove the custom ad blocker rule(s) and the page will load as expected.